Practice Acceptance | Operation Love U
Until June 2015, I didn't have a favorite quote. There were quotes I liked but I just hadn't found "the one" yet (lol). And then I came across this quote:
"Happiness is achieved when you stop waiting for your life to begin and start making the most of the moment you are in." – Germany Kent
That quote basically hopped in front of me, screamed in my face and snatched my wig. I wanted to feel happier and I was very guilty of not living in the moment because I was too concerned with the future. This woman really thought she knew my life……and she did! How she just gon call me out like that?!?!!? HOW SWAY!?!?!? Around the same time, I also came across this quote:
"If you are depressed you are living in the past. If you are anxious you are living in the future. If you are at peace you are living in the present." ― Lao Tzu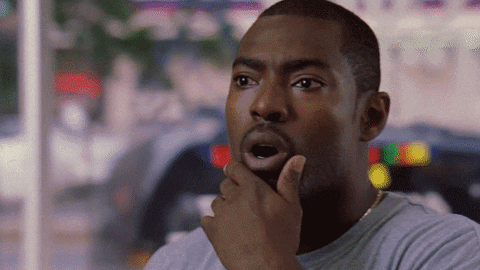 These people really think they know me…..although depression is a medical condition but I get it, breh. I hear you. I see you too. ― Me LOL!
Those quotes really got me thinking. So much so that I sat down and made a list of everything that was stressing me out. Then I made a second list on the back. On that side, I wrote down what I was capable of doing to change those things in that moment. When I read over that second list, I noticed it contained everything I was in control of. As I read over both lists, I realized that I was focusing on the first list: the one that represented my feeling "out of control". Not the second list that represented the power I had over how I wanted to feel….happier! I decided that I needed to learn how to accept things as they were!
To do that, I kept those lists in my wallet for months. Whenever I felt out of control, I read the SECOND list to help me refocus my energy where it belonged! Over time, I noticed that I really did feel less stressed out and more happy. I still feel anxious. It's just a part of who I am. BUT I am much better at identifying it and doing what I can to manage it. (Or talking to a friend who can help walk me through it!)
When I wrote this post, I thought long and hard about the items on that list. I won't share the whole thing because it is very personal to me but I realized the items all had one common factor. This post is about that item. So keep reading for the 5 reasons I encourage you to practice acceptance through something A LOT of us struggle with: MONEY!
You Can Forgive Yourself
Like so many others, I have a lot of student loan debt (and some credit card debt). I'm bad at math but I'd say about 25% of those loans are from undergrad (I have a bachelor's degree in marketing). The other 75% is from a grad-level advertising portfolio school program I completed. I did not get my first "well paying" job until I was 26. For the longest time, I was really hard on myself about my debt and my income. I was so used to not having much to spend that it was really hard to convince myself it's okay to spend the money. I bought things that weren't meant to last long (usually clothing). I didn't get more expensive items I needed when I needed to. Or worse, I'd wait until I HAD to replace it (like wearing my glasses until they broke). I fixated on random items I did buy years prior even if it was something I really did need (like my laptop or the student loans). I just always felt like I was making a mistake when I spent money.
As a part of the new plan I had for myself, I decided to learn better money management. Here's what I learned:
A lot of people have student loans way higher than mine….which blew my mind.

A lot of people weren't even able to pay theirs (mine were always paid by me or my parents).

There are ways to reduce your payments (though most didn't apply to my situation).

My credit card debt is well below the average, the median, and even the "low" range!

I was not doing as bad as I thought I was. (I was actually doing pretty good, considering! I was even a little ahead of the game in that I had a good budget, I knew where my money was going, all my bills were paid on time, my needs were met and I even had a little money leftover afterward.)

To accept MY income. Because even if it wasn't what i thought I'd be making at that point in my life, it was more than I had made before.
Through all my financial research, the biggest thing I learned was to forgive myself!
Forgive yourself. Are you beating yourself up? Do you always feel like you're doing something wrong? Chances are, you're not doing as bad as you think.
You Can Adapt
My first car was a 2002 Honda Civic that I affectionately called "The Gold Boy"! The Gold Boy went almost everywhere I went for over TEN years! One February morning in 2015, The Gold Boy broke down. If you live in the midwest or the northern US, you might recall this winter being really cold. How cold? It was 0 degrees that morning with a negative windchill. As I backed out of my parking spot, the car stopped…blocking the driveway. I stood outside for 20 minutes trying wave someone down to help me push it. One person very rudely refused to help and threw his hands up in frustration. Because apparently people's cars break down just to upset him (rolls eyes). Two others came and helped. I will forever be thankful for them!
As it turned out, my transmission had gone out and needed to be replaced (or rebuilt). My only other option was to get a new(er) car. After much discussion and research, I decided to have the transmission rebuilt. I didn't have the money to pay for it so I chose the shop with the best rep that also allowed  payment plans. Their payment plan came in the form of a credit card specifically for car repairs with 0% financing for 12 months. I figured that it would be better to do that and have my car longer than to be paying interest on an auto loan.
Fast forward a few months to my lists! There was a beauty blogger I've followed on Twitter for years. Around the same time I was figuring out how to manage my money better (and stay on track with paying off this new bill), I happened to find a post about paying off debt from her other blog "Broke on Purpose". I decided the "avalanche" method was the right one for me! I made a list of all my debt and I adjusted my budget based on this method! So rather than worry about paying as much as I could on all my bills, I stuck to this new plan. I paid more on the transmission bill to pay it off. Once it was paid off (a month early btw), I rolled the amount into the next bill on my list and then the next! I've been able to pay enough on my highest bill that I actually see the balance coming down. Every time I see the new balance, I can't get over my progress!
Adapt! Stop putting more stress on yourself! Instead, figure out what you can do differently. Start by being nicer to yourself. Do some research. Make a newer, simpler plan. Follow that plan. Revise it as needed. Be sure to track your progress so you can see how amazing you are!
You Can Focus on the Present.
October 21, 2015, I closed on my first house (with help from my parents)! *squeals* No, I didn't turn my entire life around that fast. Shortly after my 30th birthday (July 29th), I started thinking about moving. I loved my apartment and my landlords but I'd been there 4 years and really wanted a washer and dryer in my unit. I already hate doing laundry but every winter made it 100x worse. Imagine going up and down a flight of stairs, outside, and up and down more stairs while carrying a hamper (multiple times each time). Now imagine it's 0 degrees with a negative wind chill and icy sidewalks. I'm not exaggerating when I tell you I almost broke my neck at least once every time I did laundry!
I started looking at apartments nearby and realized that mine was very well-priced for the size, location, and amenities. Although I rented from the people who owned my unit, other units were rented through the condo association so I looked for those and found a few for sale. I didn't know what I could afford but I knew it was worth looking into. I contacted the realtor who helped me find my apartment when I moved to Michigan and the next thing you know, I was house hunting. HOW IT HAPPEN?!
My original wish list was literally:
must have washer/dryer (or hook up)
This list grew to include:
move-in ready

a non-carpeted area for Conda's litter box
As we looked at more houses, I realized there are a lot of homes in this area that have small kitchens so I added:
a kitchen with a lot of counter and cabinet space
And since I didn't have central air, I added it as a would nice to have item.
On Sept 18, I saw the house that would become mine! A super cute, well cared for, ranch-style home on a quiet street with washer/dryer included in a HUGE laundry room, recent renovations, painted hardwood (and tile) floors throughout, a kitchen with a lot of counter and cabinet space, lots of natural light, and central air! I've been in this house 2 years and I can honestly say that this is the best decision I have ever made in my life. Here's why!
My mortgage plus the other household bills are

still

less than my rent was ALONE. I have been able to save more

and

pay down my debt more.

Because the house was so well taken care of by the previous owners, my maintenance costs are very manageable.

Everyday I get to drive up to this house and think, "OMG, it's so cute and mine!"
I focused on what I wanted and what I could afford at that time. In doing so, I found the perfect home for ME and I got one that has brought me joy ever since.
Focus on the present. Get past what you can't do or don't have. If you have an idea, look into it. Sometimes there is more within our reach than we think. Also, remember that nothing is forever. A decision you make today doesn't have to dictate the rest of your life*.
You Can Find Your Power.
Last fall, I started seriously thinking about buying a new car. Although I was improving how I felt about spending money, I had a long way to go. During a conversation with my mom, she said something that has really stuck with me. So much so that I used it to help me further shift my energy surrounding money! She said that I needed to learn how to stop worrying so much about money because, "you always have all the money you need". I liked the sound of that and as I let that sink in, I realize she was right! So I decided I was really going to buy a new car in 2017.
Although I am not a New Year's Resolution type of person, I AM an intention setter. The last two years, I spend the month of December evaluating what I'd done the year before and then setting intentions for the upcoming year. I try to finish my list before the last new moon of the year. And rather than trying to write intentions every single new moon, I found it easier to review the current year's intentions and focus on the relevant one(s) to each new moon. It works for me. When I set my 2017 intentions, I knew I wanted to really keep my mom's words close to my heart. So I included it in the intentions I set regarding money!
Every year, I also make a list of things I plan to buy throughout the year. By making a list, I can plan my purchases so they're spaced out and so that I can take advantage of sales. I wanted to stay committed to shifting my mindset surrounding money so guess what I did. I named this year's purchase list "I have all the money I need"!!!! I track my progress underneath my intentions list throughout the year so I decided the best way to see a shift in my money mindset was to do the same thing!
Two things happened this year that showed me that my intentions are working!
1) I bought a new car (more on that later).
2) I got the biggest raise I've received since being at my job. It's the exact number I had on my spirit when I wrote my intentions! It seemed far fetched but it was what I wanted (and needed). And I got it!
Find Your Power. Figure out what you want. Write it down. Do what you can to make it happen. Figure out what negative thoughts you've put on it. Work on shifting those to positive thoughts. You're more powerful than you think!
You Can Move Forward.
On March 25th, I bought a new car! *squeals* Like I said, I had The Gold Boy for over 10 years. That's a lot longer than I think anyone expected me to keep it LOL! When I seriously committed to buying a new car, I already knew I wanted a crossover SUV. The first thing I did was get pre-approved so I knew what I could afford. Once I did that, I went hard in the research paint. After a whole lot of research, a few test drives and a lot of car hunting, I decided on a Nissan Rogue.
I've known for years that I would cry when I finally had to leave The Gold Boy behind. On March 25th, that day came. I was extremely excited but the realization that I was not going home with the same car started to set in. I held it together right up until i signed over The Gold Boy's title. I don't remember what I said but the dealer shared a story about a family who traded in a van. Everyone thought they'd left until someone went outside to find the entire family standing around their old van crying. WHEN I TELL YOU I LOST IT! I cried so much that the dealer asked, "Are you at least happy about your new car?" And through tears and snot, I said, "yes." And cried even harder!
After all the paperwork was done and I was ready to go, I went outside to get my stuff from The Gold Boy. I hugged the car, thanked it, and cried more. I am 100% sure I looked ridiculous out there draped across that car but I didn't care. The Gold Boy had been with me for over 10 years. I was not just going to walk away. I cried on the front and back of that car. I cried until I finally stopped crying on my own. And I'm glad I did. I cried once more on the way home.
That night while laying in bed, I freaked out feeling like I abandoned The Gold Boy. But I was able to talk myself down. I reminded myself that The Gold Boy is a just car…an object. That car had served its purpose and me for many years. The point of me getting my new car was so that I wouldn't be FORCED to go through that entire process. I did it by choice. I chose to move forward with my life. The funny thing is that once I agreed to the purchase price, my attachment to the car smooth overshadowed my issues with spending large amounts of money LMAO!
Move Forward. What are you holding onto? Is it still serving you? Is it getting to the point where you're keeping it (or them) around because it's been a long time? Are you just attached? Sometimes we keep things (or people) around because they've been there so long. Sometimes we do it because we're comfortable. And sometimes we do it because we can't imagine life without it (them). But if it (they) aren't giving you what you need. It might be time to seriously think about moving forward and moving on with your life.
As you learn how to practice acceptance, you'll learn that it's not a form of giving up. It's actually acknowledging that there are things (and people) outside your control. When you acknowledge that, you'll able to ease up on yourself. When you ease up on yourself, you'll able to free up energy to focus on the things you do control. And when you focus on what you control, you'll be able to see that you're doing just fine. 🙂
How well do you accept things as they are? Let us know in the comments below!
Give yourself the love you deserve with a Self Love Check-In! Every Sunday, you'll get A Letter to U (from you) and downloadable color cards to use for your needs.
Notes
*Some do but even those can be managed!